Learn About the Power of Mineral Makeup
The power of mineral makeup and how it can support and enhance your skincare to achieve your best results yet!
Mineral makeup is composed of earth derived minerals such as, iron oxides, zinc oxide and titanium dioxide that are micronized, ground or milled to create kind colour cosmetics.
There are three key differences, when compared to traditional makeup:
1. Ingredients:
Mineral makeup is free from these and other nasties, helping to care for skin and minimise risk of sensitivity and irritation. Traditional makeup formulations may include known skin irritants like artificial colours, fragrances, parabens and bismuth.
2. Skincare benefits:
Mineral ingredients, like zinc oxide, provide additional skincare benefits while acting as a second skin, allowing optimal skin function to support and enhance skincare results.
3. Application & finish:
To smooth the skin's appearance, traditional makeup sits in pores, like "wall filler". Mineral makeup, however, sits on top of the skin without penetration, minimising risk of breakouts and/or sensitivity.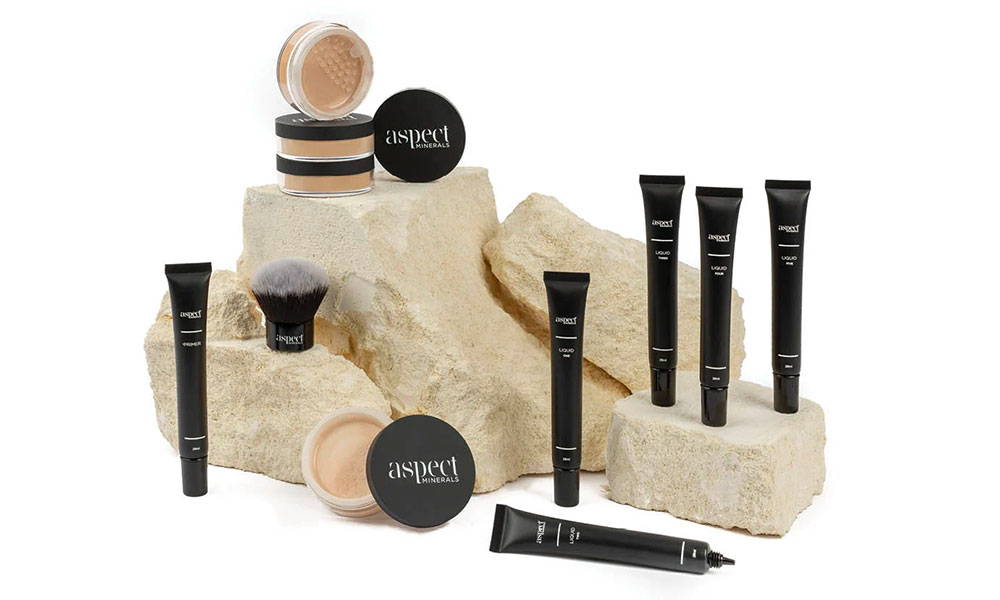 ---
Aspect Liquid Mineral Foundation blends effortlessly to even out skin tone, colour correct and diffuse imperfections.
Formulated with potent antioxidants and hydrators to protect and nourish the complexion all day long.
Suitable for all skin types for a light to medium buildable coverage for an ultimate radiant glow. Acts as a concealer and foundation.
---
Aspect Minerals Primer has a satin-smooth texture to prepare the skin for make-up creating a smooth application for your foundation.
Locking in moisture, Aspects Minerals Primer is formulated with Vitamin E and the Aspect Signature Blend of skin-loving Australian botanicals which shield the skin from damaging free radicals that can cause premature signs of ageing.
---
Aspect Minerals Loose Powder Foundation with SPF 25 helps to diffuse the appearance of redness and discolouration with the added benefit of targeting excess oil.
Formulated with an ultra-fine blend of minerals including Zinc Oxide, Titanium Dioxide and Mica to provide a flawless base and environmental protection with a boost of Hyaluronic Acid for hydration. The Aspect Signature Blend of skin-loving Australian botanicals will help to revitalise and nourish the skin. The result: a flawless finish.
---
Aspect Minerals Kabuki brush, has been specifically created to achieve the most natural, flawless finish.
This Kabuki brush is made from the highest quality and uses soft, thick vegan bristles for a flawless application.
---