The amazing benefits of Rosehip Oil
Jam-packed with essential fatty acids, vitamins and anti oxidants, rosehip oil has the exceptional ability to nourish and balance all skin types.
With time and regular use, not only will your skin have a radiant glow, you will begin to notice an improvement in wrinkles and scars as well as the fading of stretch marks.
It's no wonder that rosehip oil has been known and used for hundreds of years and for many different skin conditions. Whether it is used for scars, burns, wrinkles or even acne, rosehip oil has the potential to protect all skin types ranging from babies to adults.
So what exactly is Rosehip Oil?
Rosehip oil is a superfine oil, which is easily absorbed by the skin leaving behind no oily residue.  It is a fruit oil extracted from the hip of the rose. The hip is the fruit that is left after a rose has bloomed and the petals have fallen.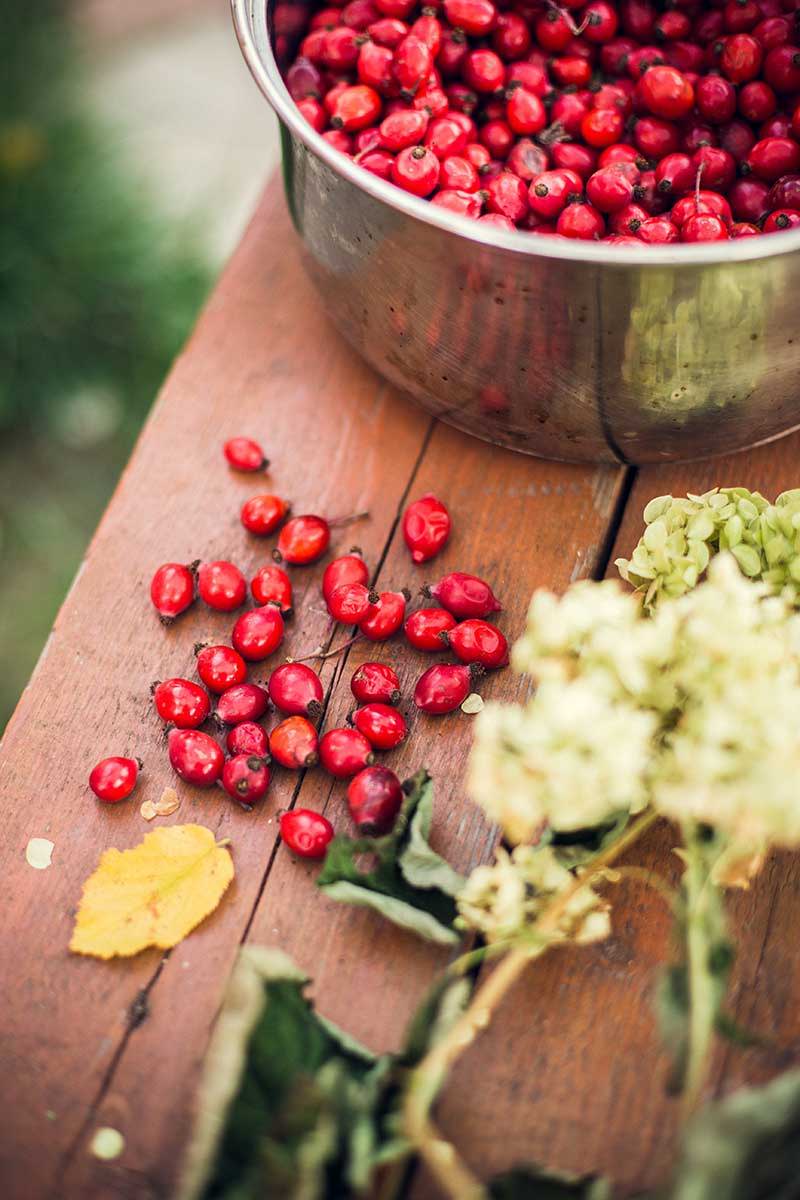 Where does Kosmea Rosehip Oil come from?
Handpicked by the local people in Lesotho, Southern Africa, offering a sustainable income for the people of that area, Kosmea only sources 100% certified organic rosehips from the Maluti Mountains.
The growing and picking region itself is 3300 metres above sea level resulting in high rainfall and pure clean air. The area is certified organic, meaning there are no pesticides or artificial fertilisers used.
How is Kosmea Rosehip Oil extracted?
Kosmea rosehip oil is extracted without the use of heat or solvents; this process is called supercritical extraction. By using this process Kosmea are able to preserve the maximum amount of essential fatty acids, vitamins and antioxidants available.
Kosmea rosehip oil is prepared using the whole fruit, skin and seed of the rosehip. The seed is what gives Kosmea rosehip oil its gorgeous amber colour.
Why is Rosehip Oil good for our skin?
Omega 3,6 and 9 are essential elements for the health of our skin and wellbeing. With the human body being unable to produce these essential fatty acids, rosehip oil provides these acids to assist with repairing damaged skin tissue and help repair skin cells.
Rosehip Oil is also a rich source of Vitamin A or trans-retinoic acid. The latest research reveals that trans-retinoic acid could help prevent premature ageing caused by sun exposure. When exposed to the sun, there is a chance of increased levels of enzymes, which lead to the breakdown of collagen and elastin.  The trans-retinoic acid in rosehip oil reduces the activity of these skin-damaging enzymes, reducing damage caused by the sun.
How to use Rosehip Oil
Rosehip Oil can easily be added into your everyday skincare routine.
As a facial oil - massage 2 -3 drops of rosehip oil onto clean, slightly damp skin, this allows for better absorption.
To help treat skin conditions – Apply 2-3 drops of rosehip oil onto affected areas and massage gently until absorbed into skin. This can be done twice daily or more if required. Many skin conditions will see great improvement within 2 – 3 weeks.
For dry hair and split ends- apply a pea-sized amount to ends of hair and work through for smooth hair.
For babies and small children- use as a nourishing oil to soothe dry patches by massaging a few drops into skin twice a day.
Looking after your Rosehip Oil
Best kept in a cool dark place such as your bathroom cabinet. Always ensure the lid is placed on tightly after use as air can quickly decrease the quality of rosehip oil.
For more information and guidance on best makeup for your skin, please feel free to email hello@absoluteskin.com.au or call us on 1300 334 683.