How to Layer Your Skin Care In The Right Order
Serum, moisturiser, toner, facial oil – there are so many beneficial ingredients to incorporate into a skin care regimen.
As you look at the assortment of products in front of you, there might be one pressing question on your mind: What's the best order for my skin care routine?
Why it matters to apply skincare products in the right order
The skin's natural response is to act as a barrier, protecting your body from the external world and only allowing a small percentage of ingredients through. When it comes to skin care, though, we want beneficial ingredients to penetrate various layers of skin. Using products in the correct order allows this penetration to occur.
Alicia Hawthorne, Eminence Organics Product Support Representative, advises: "Layering products in the correct order determines how effectively they absorb into the skin." When investing in skin care products, you definitely want to make the most of the ingredients and not have them go to waste!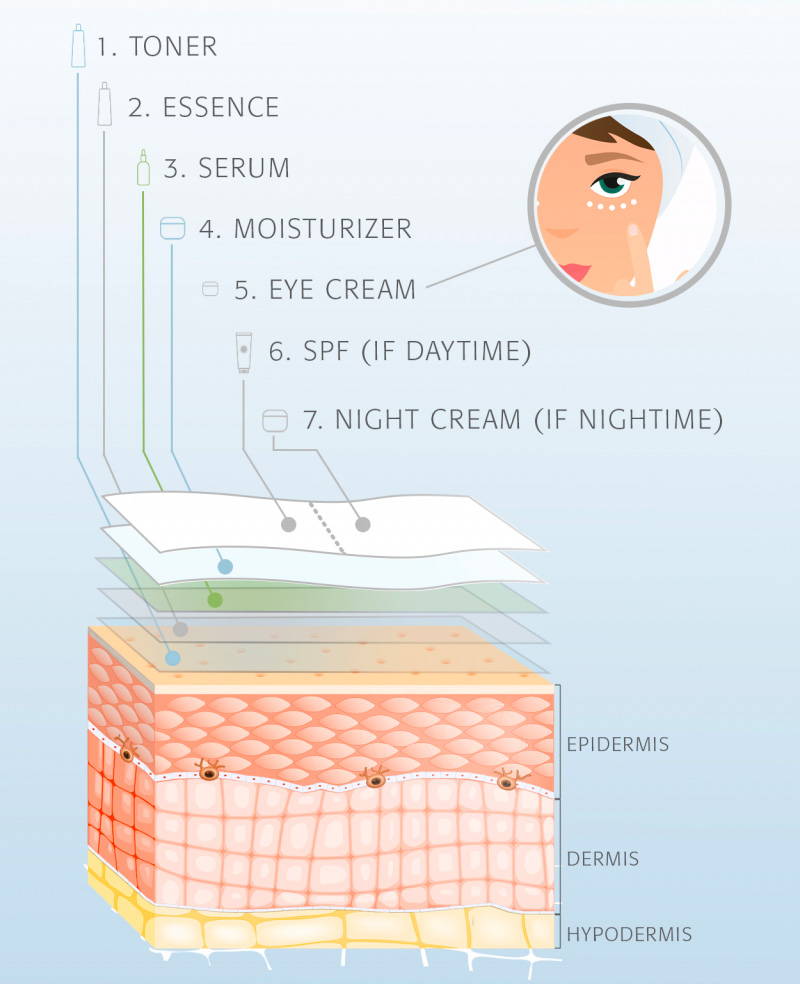 1. Toner
One of the most commonly skipped steps, toner should be featured in every skin care routine! Often packed full of antioxidants and hydration, a toner, hydrating mist or tonique follows cleansing and conditions the skin.
We recommend:
---
2. Essence
Applying an essence is a must to add hydration and prepare the skin for the next steps in your routine. A lightweight formula that boosts the skin's ability to retain moisture, an essence enhances ingredient absorption – perfect when you want to get the most benefit out of your routine. After toning, shake a few drops of essence into the palms of your hands, warm the product in your hands and gently press into your skin.
We recommend:
---
3. Serum, Concentrate, Facial Oil
After prepping your skin with your toner and essence, apply potent and nutrient-dense serums or concentrates. Serums are often rich in antioxidants so it makes sense that you want them to be absorbed fully. Also, if you need to target or address specific skin concerns, applying a concentrate or serum at this point of the routine is recommended for best results.
We recommend:
---
4. Moisturiser
Even if your skin is oily, a hydrating moisturiser is essential to lock in moisture and protect it against the barrage of conditions it experiences day and night. A moisturiser will help support the natural skin barrier and will keep your complexion strong and healthy. For best results, you can apply your favourite moisturiser after serums or facial oil while the skin is still damp.
We recommend:
---
5. Eye Cream
This delicate area is often left behind in a skin care routine – but it's the area of your face where signs of ageing show up first! Apply a hydrating eye cream over your moisturiser and pat it gently into the area around the eye socket, targeting fine lines or crow's feet, as well as the undereye area.
We recommend:
---
6. SPF (Daytime)
For a daytime skin care routine, sunscreen should be the last step. Physical and mineral sunscreens block harmful UV rays from penetrating the skin and causing age-accelerating damage. For daytime use, it's a good idea to find a moisturiser that contains sunscreen.
We recommend:
---
7. Night Cream (Evening)
If you're not ending your day with an overnight face mask, a rich and hydrating cream is the perfect last step for a nighttime skin care routine. These specially-formulated products are thicker and heavier than everyday moisturiser, allowing them to really go to work sealing in serums and protecting the skin during sleeping hours to prevent moisture loss. Skin works its hardest at night while we sleep, rejuvenating and repairing cells, which is why using a night cream packed with botanical oils and extracts is highly recommended.
We recommend:
---