4 Tips to Treat Dry Hands
With the world experiencing the global pandemic and the focus on repeatedly washing our hands or dosing them in hand sanitiser to keep the nasties at bay, we are all suffering from very dry, rough cuticles and hands.
This dryness can often lead to cracks which can become an entry for the germs we are trying to fend off so keeping our hands soft and supple is a priority. There is also little fat on the backs of your hands - and the skin there is much thinner - dryness and signs of ageing are much more noticeable on your hands than your face.
Read on for recommendations for keeping your hands looking tip top.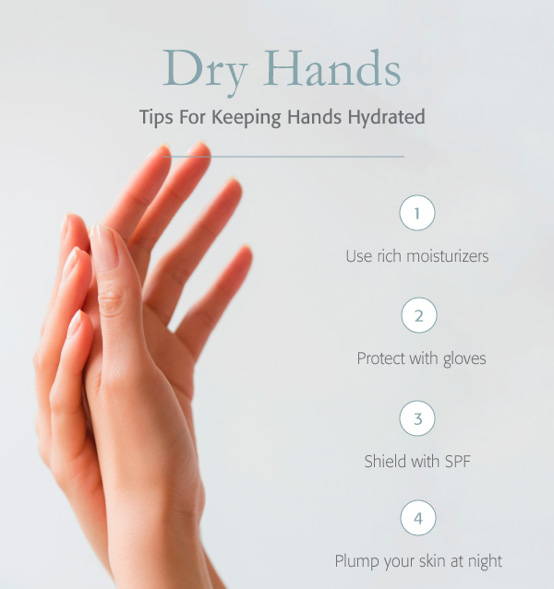 1 - Choose a rich hand cream and cuticle oil :
Replace lost moisture and overcome dryness with a rich hand cream and nourishing oil. Start by applying an oil to the cuticles, work the oil around and over the nails. Choose a rich hand cream and massage the cream into your cuticles, over your nails and spend a good few minutes working it into your hands. Do this routine a few times at work, at home and particularly priori to going to bed to ensure your hands have everything they need to recover overnight.
We recommend:
Eminence Vanilla Hand Cream soothes and nourish dry hands with a refreshing blend of shea butter, aloe and a delicious scent of Vanilla and Mint. This organic hand cream leaves your hands feeling soft and soothed.
AHAVA Mineral Hand Cream treats your thirsty hands with a drink of deep relief and nourishment. Blended with hydrating minerals and infused with aromatic green plum and sandalwood, it gently and effectively softens rough skin. Suitable for all skin types.
Kosmea's 100% Organic Rose Hip Oil is an absolute must have and treats a multitude of skin conditions. Rich in essential fatty acids, vitamins and antioxidants, this easily-absorbed oil is a real treat for the skin.
---
2 - Protect Your Hands With Gloves
Gloves are also an essential step to protecting your hands. Gloves are especially essential for activities like dishwashing. Avoid oil-stripping dish detergent from drying out your hands and don rubber gloves when cleaning up the kitchen.
---
3 - Shield Your Skin With Spf
According to an Australia study, slathering sunscreen on your hands not only protects them from skin cancer and sunburn, but it is also clinically proven to preserve them from signs of ageing. To achieve the same effect for your dry hands, we recommend application of sunscreen on your hands, as needed.
We recommend:
The zinc based Eco By Sonya Natural Rose Hip Sunscreen is untinted, non greasy and rubs in clear. It is suitable for the face and body. Natural mineral zinc creates a physical barrier on the skin's surface to reflect the UV rays protecting from UVA and UVB damage.
AHAVA's Age Perfecting Hand Cream SPF15 is a daily use hand cream that works to improve skin texture, reduce dark spots and nourish the hands. A broad spectrum SPF15 provides essential protection from the environment.
---
4 - Plump Your Skin At Night
One of the best solutions we recommend for dry skin on your hands is a night-time treatment. After eight hours of beauty sleep, you'll be waking up to hands that are as perfectly moisturised and soft.
We recommend:
Kosmea Rose Glow Hand Cream is a rich and luxurious cream to nourish and care for hard working hands. Formulated with Certified Organic Rose Hip Oil, White Tea Extract, Shea Butter and Damascus Rose Flower Water and combined with Rosewood Oil to give you a beautiful rose scent.
Hand lines and wrinkles can be caused by sun damage, ageing and lack of hand care. The Wrinkles Schminkles Hand Smoothing Pads are made from 100% Medical Grade Silicone proven to smooth out hand wrinkles and improve the skin's texture. Apply while you sleep or at anytime throughout the day.
---
For more information and guidance on best skincare for your skin type, please feel free to email hello@absoluteskin.com.au or call us on 1300 334 683.